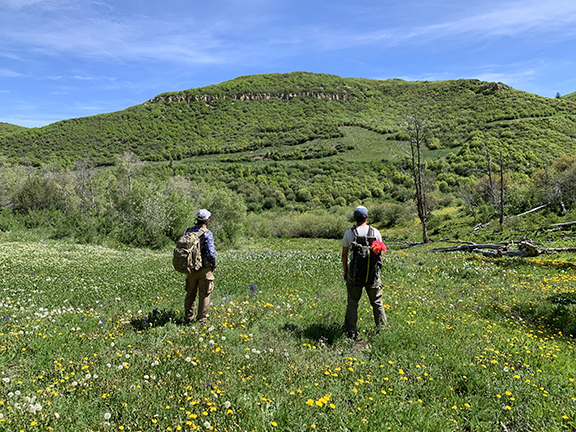 September 2022
Cultural Resource Technician, Durango
Do you have a passion for Archaeology?  Being active in the beautiful Colorado outdoors?  How about backpacking?  How does combining these passions to solve intricate challenges through teamwork and technical expertise sound?  Sound great?  If so, ERO is for you.  We are seeking a Full-Time Cultural Resource Technician for our Durango, Colorado office.
At ERO, we have been solving environmental problems for 40 years. Our diverse team of scientists, planners, and subject matter experts work together to craft innovative solutions within the regulatory framework while balancing change in our region with natural and cultural resources protection. Did we mention ERO is a small women-owned business certified in Colorado?
We're always looking for dynamic and engaged people to join our team! Bring your expertise, your ingenuity, and your vision. Let's see the positive impact we can create, together.
Position Overview
Cultural Resource Technicians assist in the identification, evaluation, and treatment of cultural resources. Technicians are responsible for applying technical skills in archaeology to assist project managers and senior level staff with all tasks related to fieldwork and reporting in the cultural resources department. This is a field and office position. Applicants for this position are expected to be physically capable of performing fieldwork tasks associated with survey, testing, and excavation.
Minimum Education and Experience
Bachelor's degree in anthropology or related social science field
Three months of applicable experience, with preference for Colorado-based experience
Physical Requirements
The project areas may be located at high elevations in rugged terrain. Applicants must be physically capable and possess the skills necessary to perform all aspects of fieldwork including strenuous hiking with a backpack in rugged terrain up to 10 miles a day, collecting digital data, completing standard resource forms, performing in-field artifact analysis, and taking photographs.
Performance Expectations and Responsibilities
Cultural Resource Technicians will conduct the above tasks safely, independently, and efficiently under the immediate supervision of a crew chief, field director, or project manager. Technicians must be able to work variable hours, long days, early mornings, holidays, and weekends as the work dictates. Overtime is likely during periods of extensive fieldwork and will be compensated at time and a half.
Expected Field Duties
Support the crew chief, field director, and project manager with all requested field tasks
Follow the Safety Plan and guidelines
Drive a company vehicle to the project area, sometimes in 4WD situations
Collect digital and spatial data with tablets, digital cameras, and GPS units
Complete digital or hard copy field forms (state site forms and artifact analysis forms)
Hike and survey with a backpack in rugged terrain up to 10 miles a day
Assist with testing, including excavating 10 or more shovel tests in a single day using hand tools and shovels, lifting 50-pound buckets, and conducting in-field sediment analysis and screening
Record accurate detailed notes, digital photography, and mapping
Expected Post-Field Duties
Unload and organize equipment
Upload or transfer all field data, as directed
Enter site form data into ERO's Microsoft Access Site Form database
Assist with completion of resource documentation, as directed
Perform artifact washing, flotation, data entry, artifact analysis, artifact curation preparation, and other duties, as requested
ERO offers a very competitive compensation package that includes:
Wage range is $18.00-$24.00/per hour, commensurate with experience
Relocation bonus available for the right candidate
10 hours/month paid vacation accrual (separate sick leave bank)
Seven paid holidays and office closure between Christmas and New Year's Day
ERO pays on average 80 percent of health, dental, vision, and other insurance packages
Generous cell phone and office equipment stipend
Annual profit sharing and retirement plan contributions
Opportunities for advancement, including opportunities for Associate and Board-level ownership for the right candidate
Residents with in-state experience are preferred. ERO offers a hybrid work arrangement but would like the preferred candidate to be based in the Durango area.
If you are qualified for this position, please email a cover letter and resume describing your education and experience to opportunities@eroresources.com. PDF format is required. Applicants selected for interviews will be asked to provide at least three references.
ERO participates in e-verify and pre-employment background screening services. ERO is an Equal Opportunity Employer and encourages women, minorities, individuals with disabilities, and covered veterans to apply. For more information about ERO, visit our website at www.eroresources.com.